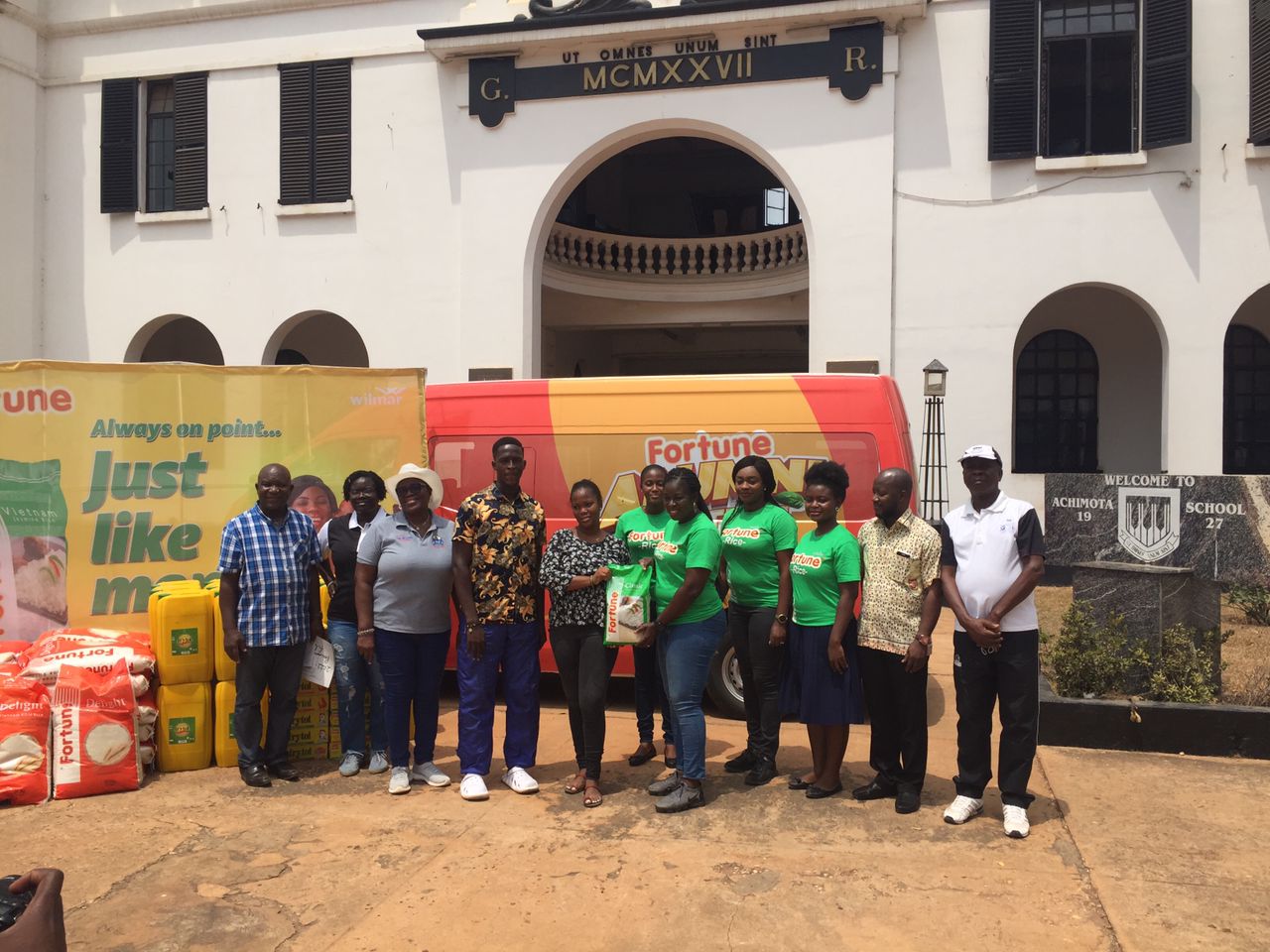 Wilmar Africa Limited presents food items worth GH₵20,000 at Achimota School
Wilmar Africa Limited, one of Ghana's leading manufacturing companies, donated food items worth GH₵20,000 to Achimota School for Emerging Champions in the first edition of the Fortune Alumni competition which took place is held in Accra.
The Fortune Alumni Contest is a cooking competition open to all high school alumni across the country. This first edition launched on Fortune's social media pages in January, culminating in a fierce class on February 12, 2022 on the forecourt of UPSA-Legon.
The Fortune brand has hosted a number of high school alumni teams namely: Wesley Girls High School, Mfantsipim School, St Peter's, St Rose's, Aburi Girls, Presbyterian Boys, Mfantsiman Girls, Accra Academy, St Mary's, Achimota Senior High, Krobo Girls, National College of Ghana, St Francis Xavier, Mawuli Senior High and Yaa Asantewa Girls, and Prempeh College.
These schools competed in different preparations of Fortune rice-based rice dishes and were judged by three of the best food professionals in Ghana, namely Chef Henry, Mukase Chic and Ekow MaClean. The dishes were pre-selected by the various Alumni representatives, who also indicated the necessary ingredients.
All ingredients and logistics were then made available by Fortune for all teams. The competition was a timed barbecue and judged on taste, creativity and innovation, proper use of ingredients and teamwork.
At the end of the barbecue, Achimota School emerged as the best school overall, making them the champions of the first edition of the Fortune Alumni competition and winning for themselves products and vouchers and the food parcel coveted worth GH₵20,000 for their alma mater.
Marketing Manager, Mrs. Patience Mpereh congratulated the winners: Jonathan Gabriel Larmie and Donatella Esinam Kudoto, for their hard work and outstanding creativity.
In a short ceremony held at Achimota School, Mrs. Patience Mpereh further presented the general award to the headmistress of the school and commended the school for preparing such selfless students who want to give back to their school.
Likewise, Wilmar Africa Ltd Marketing Manager, Mrs. Ewuraba Adusei congratulated the students on their performance while appreciating their continued loyalty to the Fortune brand.
She hoped that Wilmar's gesture would go a long way in supporting the school/boarding school's current diet to ensure students continue to enjoy tasty and nutritious meals.
Fortune is a trusted global food brand of Wilmar International; provide nutritious meals in many countries. In Ghana, it has been around for about 5 years in the rice and margarine categories.
Fortune rice is appreciated for its versatility when it comes to different rice dishes due to its innovative variants such as Delight KDM, Delicious Vietnam Rice, Classic Vietnam Jasmine, Thai and Emo Pa (Ghana rice) with different packing sizes and price. suitable for all pockets.
Fortune delivers the taste, quality, and aroma to ensure consistent, flavorful meals every time. The vocation of the brand is to bring people together like mothers while promoting the pleasure of eating. By engaging its consumers and communities in campaigns such as the Fortune Alumni competition, the brand gives back to society, while exciting the consumer base for continued partnership.
The Fortune brand continues to expand in the rice market by championing innovations in the local rice segment with its tasty variant of Emo Pa rice which is 100% produced and packaged in Ghana with the same great taste and unique grains for all rice meals.
Donated items included Fortune Delight KDM rice, Frytol pure vegetable oil and Frytol seasoning tablets.