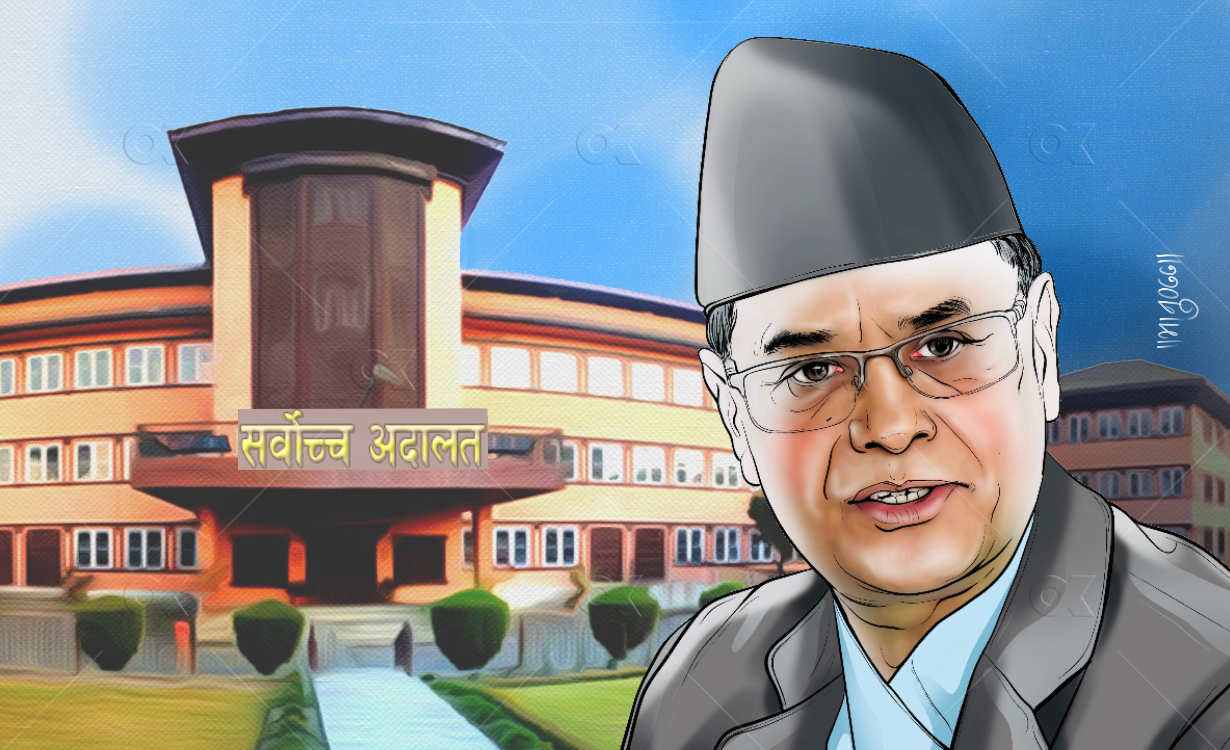 How Nepal's CJ Cholendra Shamsher Rana undermined judicial independence over the years
On April 15, 2021, Chief Justice Cholendra Shamsher Rana formed a bench consisting of Justices Tej Bahadur KC, Sushmalata Mathema and Hari Phuyal to review the court's decision on the fake VAT invoice case which had some errors.
According to a source at Supreme Court, Rana had told KC that it would be better if the case was reviewed. But, KC denies these allegations. That day, the judges did not issue a verdict because they requested additional documents. Two months later, the case was reconsidered per CJ Rana's wishes as a bench of KC, Bam Kumar Shrestha and Manoj Kumar Sharma delivered the verdict.
CJ Rana, over the past year, has been accused of botching verdicts. He was accused of rigging several cases, after which Supreme Court Justices began staging protests against CJ Rana from October 26, 2021. SC Justices and the Nepal Bar Association say that Cholendra Shamsher Rana, during his tenure, defamed the judiciary and asked him to step down.
And they are right. Here we explain some of the cases that have brought Rana into controversy.
A wide range of wrongs
In 2020, Krishna Bahadur Giri, also known as Siddhababa, was facing rape charges in Sunsari District Court. The District Court granted Giri bail of 300,000 rupees, but this verdict did not stay long as the High Court overturned the decision asking the District Court to send Giri to jail. This decision was also supported by the Supreme Court.
As the case progressed, Rana called Sunsari District Judge Arjun Koirala to come see him. This news got out and all the Supreme Court justices heard about it.
"CJ Rana asked Koirala if there was a chance of acquitting Giri," said a Supreme Court judge. "I think the pressure also came from the president's office because the president's mother lived in the Giri ashram."
And unsurprisingly, Giri was acquitted. Following this, Koirala got a promotion.
Cases like these have irritated judges and lawyers. They have not filed any complaints citing these examples but it is evident that Cholendra Shamsher Rana over the past couple of years has been rigging deals in favor of people he is close to.
These allegations were included in the memorandum of the Nepal Bar Association which he submitted to the President and the political parties. In the memorandum, the NBA accused Rana of making decisions on a whim without keeping the integrity of Nepal's judicial system in mind. The umbrella organization of Nepalese lawyers also accused him of setting up benches at will in a non-transparent manner.
Seven Supreme Court justices Onlinekhabar spoke to said that Cholendra Shamsher Rana had tried to alter the verdicts of many cases heard by the Supreme Court. He did this by forming benches of judges according to his tastes and talking to other judges to rule in his favor.
Conflict of interest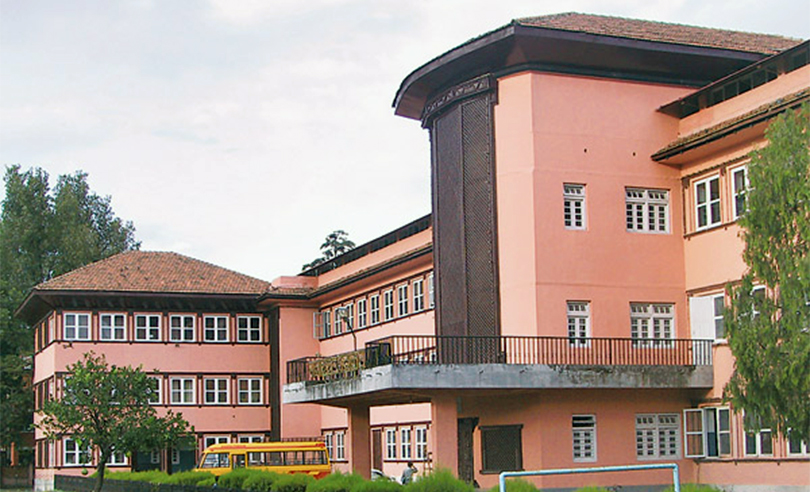 An example is how he intervened in a case involving his brother Prabhu Rana.
Property trader Sudhir Basnet had filed a motion for an injunction against NIC Asia Bank. Basnet was a defaulter and his land had been taken by the bank. The writ motion was stayed by then-Chief Justice Sushila Karki. After Karki's retirement, Basnet registered another brief motion when Gopal Parajuli was the chief justice. But, he was suspended again until CJ Rana came to power.
The reason why Cholendra Shamsher Rana showed interest in this matter was because her brother Prabhu was close to Basnet. Less than a month into Rana's tenure, the case was on the court's list of causes. The bank and the other lawyers knew something was wrong.
The bank hired Tilak Rana, CJ Rana's cousin, to fight the case. As the bank had given power of attorney to Tilak Rana, it automatically barred Cholendra Shamsher Rana from sitting on a case as a relative of a lawyer could not sit.
But, the case still landed in the Chief Justice's bench. He called Tilak Rana and asked him if he wanted to argue the case. Tilak said yes, after which the head judge had to forfeit as the rules did not allow him to be on the bench.
Even before the recent protest against him, Bar officials had contacted CJ Cholendra Shamsher Rana and asked him to explain why he still wanted to take on high-profile cases.
In response, he told Lilamani Paudel, the NBA general secretary, that he wanted to carefully review these cases because they involved people he knew. But, he told Paudel that he didn't take any money to rig a deal.
Enough is enough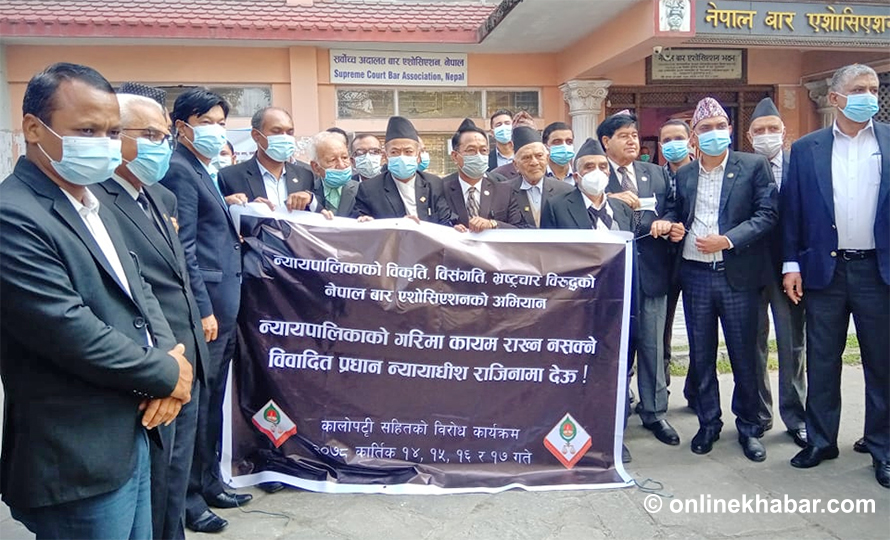 The Bar Association and its members have continuously received information about CJ Rana meeting people in secret. The tip also indicated that cases were being rigged as the benches were decided well in advance.
And, to the astonishment of members of the Bar Association, this is what happened in a case related to Yeti World's plan to build a hydroelectric project inside Langtang National Park. But the verdict did not turn out as Rana or the party he was talking to had expected.
The court ruled that no one was allowed to build anything, let alone a hydroelectric plant in protected areas like a national park. The court issued this verdict because it was clear that only a few people would benefit from the operation of a hydroelectric plant.
The idea to build one came from Yeti World, one of the largest conglomerates in Nepal. After the court decision, Yeti did not go to court immediately. But Ms Peak Energy, saying it had also been affected, went to court to seek the annulment of the interim order.
After discussion, CJ Cholendra Shamsher Rana and Judge Kumar Regmi decided that the case would be heard by an expanded full bench. To ensure that the case would not be seen by people who were against it, Rana again changed the decision and decided that a full bench would see the case. The outcome might not have been in Yeti's favor, but CJ Rana's interest in these cases shows his abiding interest in high-profile cases.
This, however, angered many people, including the victims. The Siddhababa case is a great example where the court, after interference from Cholendra Shamsher Rana, acquitted Giri.
The Supreme Court also acquitted Govinda Bahadur Batala despite her involvement in the death of businessman Ram Hari Shrestha. The court said that Shrestha died from injuries he sustained after being beaten and that Batala had nothing to do with it. But Batala was the person who kidnapped Shrestha. Although it has been recommended that the case be reconsidered, this has yet to happen despite the murder taking place three years ago.