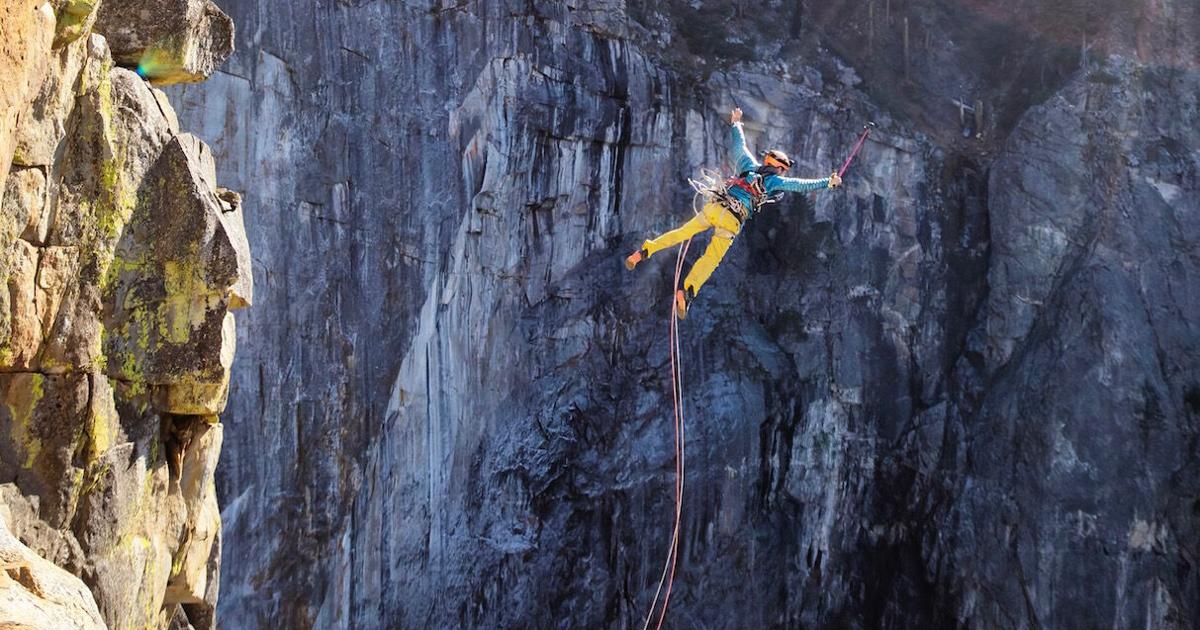 Daring climbers jump rope from Yosemite Leaning Tower | New
A team of experienced climbers, highliners and riggers pulled off a stunt for the ages last week when five of them jumped off the top of the Leaning Tower in Yosemite National Park to replicate the legend of the extreme sports Dan Osman, who died trying to do the same thing 23 years ago.
Led by highliner Ryan Jenks, 37, of Lodi, who produces extreme sports videos and other content for his website CommentNOT2.com, the group decided to pay homage to Osman and rekindle his memory "to rekindle the fire that Dan Osman has set in us," Jenks said this week in a telephone interview.
Osman, a prolific solo, cordless climber and world record holder in jumping based near Lake Tahoe, died at the age of 35 on November 23, 1998, attempting to break his own record on a 1,100 foot jump from the Leaning Tower.
The late daredevil, widely known as "Dano", made a name for himself in extreme sports for over a decade, surviving multiple solo speed climbs without a rope, performing various rope jumps record high from cliffs and bridges, and appearing in the popular "Masters of Stone video series."
"All of his crazy stunts inspired me as a young climber," Jenks said. "I don't do solo free play but I really found the skipping rope fascinating. I rehearsed his famous tug-of-war on the Yosemite grandstand in the fall of 2017 and four years later I must have taught myself how to do it.
Some in the climbing community viewed Osman and his exploits as reckless and foolish. Regardless of the risks and the mixed reputation of their inspiration, Jenks and his team decided this fall to celebrate Osman's daring and vision at the Leaning Tower by surviving it.
"What he did was crazy," Jenks said. "What we did was the safest rope jump I have ever done. We only fell 550 feet. We have a safety margin there. We weren't trying to beat his record. We were trying to revive his memory.
To recreate a safer version of Osman's Leaning Tower skipping rope, Jenks and others – including Alonso Rodriguez, 26, Greg Kommel, 27, Jose Oliva, 32, Ryan Sheridan, 29, Andrea Nicole, 39, and Michael Melner, 40 – worked several days over several weeks in November.
First, they decided to climb a 700-foot aid road called Roulette to reach the top of the Leaning Tower, 1,200 feet above the boulder fields below.
Help climbers use ropes, equipment and slings to climb rock faces; free climbers only use their equipment as protection, to catch up in the event of a fall. Roulette is rated A4, for severe risk and exposure, with a common 60-100 foot drop potential and rough landings well below.
"It was very difficult," Jenks said. "More difficult than we thought. "
Then they went down and climbed the nearby Fifi buttress to install a horizontal line between it and the leaning tower to which they could tie their skipping ropes and make sure they did not sway in the cliffs in below.
Unlike bungee jumping, rope jumping on climbing ropes induces wide swings once the jumper reaches the end of the rope. Climbing ropes stretch, but not as much as rubberized bungee jump ropes, so Jenks and his team provided swings up to 100 yards in each direction.
"You can't connect a jump rope directly to the cliff face because you would swing back and hit the wall on any vertical or overhanging cliff," Jenks said. "We swung the equivalent of a football field in one direction and 100 meters in the other direction. The slackline was essential to get us away from the wall at the bottom of the swing.
These people are also highliners, so when mounting the horizontal line, Rodriguez successfully crossed it with a harness and without falling. He named the line "Flossing the Sky," a phrase originally coined by Osman to describe the sounds he heard when he jumped rope more than two decades ago.
Jenks, Kommel, Oliva and Sheridan were among those who entered the void on November 23 and jumped from the Leaning Tower to hear for themselves those sounds of dental floss and the whistling of wind in the rope. Their free falls extended over 550 vertical feet.
Their redundant security systems included metal hardware, straps and ropes. Everything worked, including the dynamic engineering they had to work in to make sure they didn't hit anything, including rock faces and pine trees.
"You don't want to hit the cliff or swing off the cliff, and you definitely don't want to hit a 150-foot tree," Jenks said, adding a grim joke, "It's really embarrassing to die if nothing fails. "
Another joke Jenks often tells is, "The rule of skipping is to take second.
"The reality is that we throw a bag of stones to test it first," he explained. "This is not a thrill ride in an amusement park where you are guaranteed a result. This is the ultimate test in rig engineering and climbing rigging. If you thought that thing was good and it isn't, you will die. It's a puzzle where you have to collect all the pieces, or you die. "
Articles on Osman online have titles like "Terminal Velocity", "A Daring Young Man's Odyssey" and "The Precipitous World of Dan Osman" and a book about him is titled "Fall of the Phantom Lord: Climbing and the Face of Fear. "
Celebrity free soloist Alex Honnold was among those who rehearsed some of Osman's ropeless climbs, including Bear's Reach on Lover's Leap near Lake Tahoe.
Jenks and his team had no sponsors for their tribute to Dan Osman at the Leaning Tower.
"Zero sponsor, no money," Jenks said. "It would cost around $ 30,000 to buy all the necessary equipment, cameras and lenses, but we already had most of them. We did it because we were thrilled. We wanted to pay tribute to the inspiration that Dan Osman gave us. He used to speed solo solo, climb quickly without a rope, and he timed himself. It's crazy. We wanted to honor Dan Osman by repeating his move, in all safety.