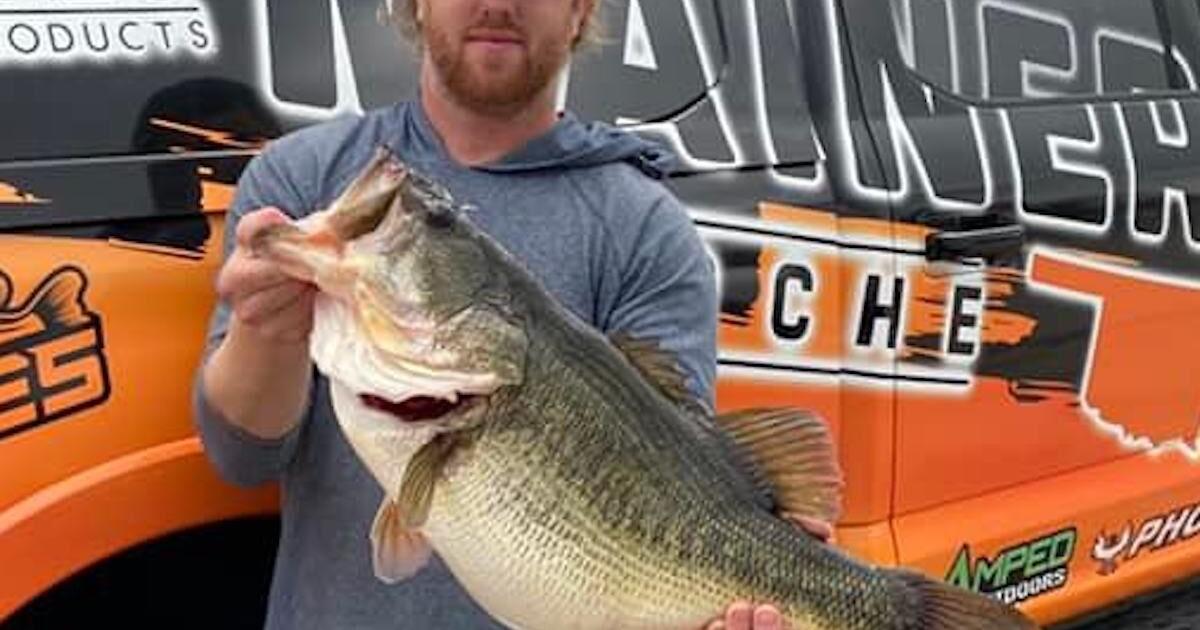 Big Hit: Oklahoma Angler Adds Another 15-Pound Texas Bass To Its Collection | Chroniclers
For most of the world, 2021 has been a year with more twists and turns than a roller coaster. And not in a good way.
For Oklahoma angler Josh Jones, however, it was the kind of year he won't forget. Jones spent part of the year getting away from the rest, crossing the Red River on a 425 mile one-way trip to OH Ivie, TX, where he caught three Toyota ShareLunker Legacy bass.
Jones' last was a 15.1-pound bar in mid-December to squeeze the 13.2 and 15.4 captured in February. While the first two were collected for the Texas Parks and Wildlife Department's ShareLunker Hatchery Program, the December sea bass arrived two weeks before the January 1 program kicked off for the 2022 season.
The fisherman's last catch was on his second day on the lake in December.
"The first day I found some fish, but I couldn't get them to bite. The second day I got it and I was able to catch this one, "he said.
Jones only targets large fish. Using modern sonar technology, his technique involves surfing the water until he spots a big bass on the screen, then throwing.
"My chances of catching big fish increase because I don't hunt small fish," he explained.
This time he was using a chartreuse white 6th Sense Braid Swim Jig. The fish came from 20 feet of water.
"I knew I was going to catch a big one, I didn't know it would be a 15 pounder," Jones said of the bass which was 28½ inches long and 23 7/8 inches in circumference.
His February 15-pound bass arrived at a rig in Alabama and happened because Ivie was the only lake he could find that wasn't frozen over.
"All of our lakes froze. I was going to Hubbard Creek and it was frozen over. I was going to try more, but they were all frozen. So I went there the next day, "he recalls.
Given the record for cold, snow, and the fact that this was his first time on Ivie, Jones said he believed the catch, as well as the 13-pounder on the same trip, was supposed to l 'to be.
In his quest for big bass, Jones said he would continue to visit Texas Lakes and at one point was planning a trip to California to hunt big fish.
If Jones had caught his December bass a few weeks later, he would have become only the sixth angler to donate three 13-pound or larger bass to TPWD for his hatchery program. He is only the second known to have two over 15 pounds, joining Ronnie Arnold of Karnack who caught a 15.7 and a 15.1 on Caddo Lake in 2007 and 2009. Thirteen other anglers registered two. ShareLunkers of 13 pounds and over since the program began in 1986..
However, while Jones' 15ers are historic in Texas, they are a far cry from two Californian anglers who each registered a 20-pound pair 30 years ago.
The ShareLunker program is coming off its best year in terms of production despite the crazy weather last winter. TPWD collected 23 bass and had 18 successful spawns from 19 females placed in the hatchery production program.
These spawns resulted in over 271,000 fry, exceeding 255,000 produced in 2011. Some of this year's fry were returned to lakes where bass were fished, but more importantly, others were. retained for the department's hatchery program to produce more Florida strain fry for Texas. 'waters.
ShareLunkers' producing lakes in 2021 included Tyler, Palestine, Fork, Sam Rayburn, OH Ivie, Conroe, Austin, Travis, Coleman City and Eagle Mountain.
The fundraising portion for ShareLunker's 13+ books runs from January 1 to March 1.
While fish are not collected for hatcheries, throughout the year the program also recognizes catches greater than 8 pounds or 24 inches. Those who participate in this part of the program also receive a catch kit and are eligible for a $ 5,000 shopping spree and an annual fishing license.
Anglers can enter these catches through the Toyota ShareLunker mobile app or the Toyota ShareLunker online app at TexasSharelunker.com.
To enter a bass of 13 pounds or more, call or text 903-681-0550.