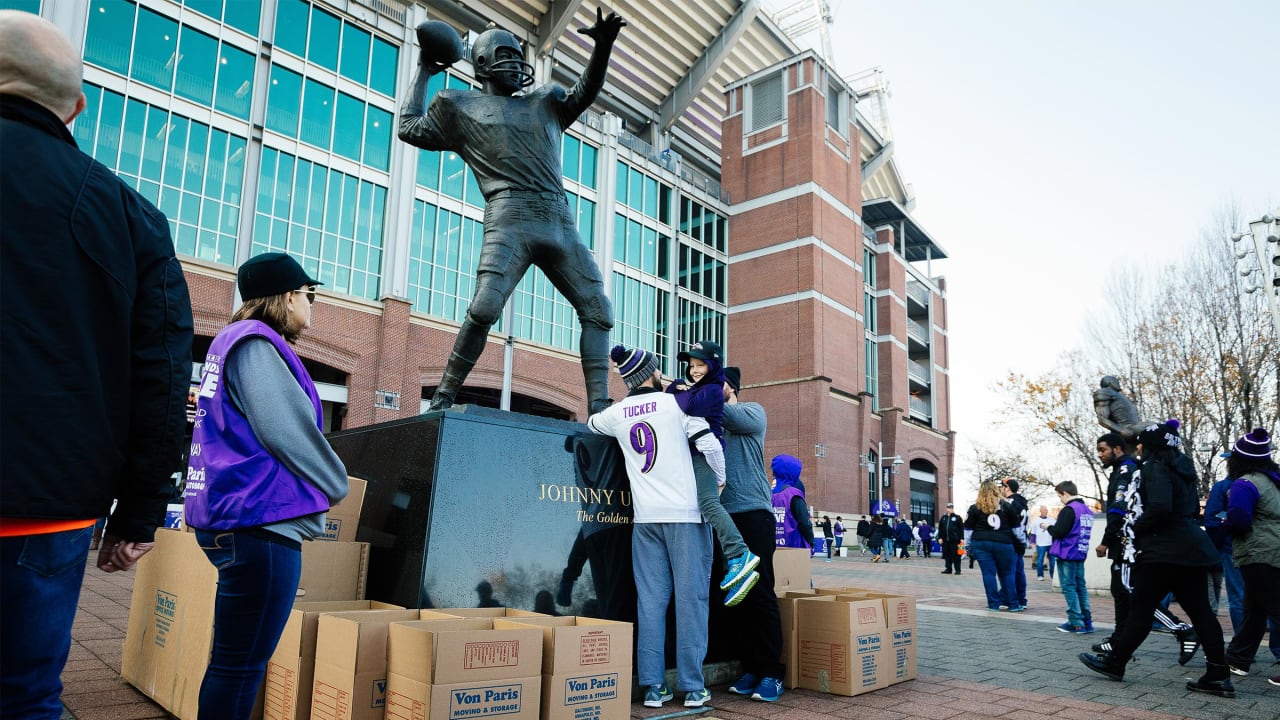 Baltimore Ravens Feed The Flock Launch
BALTIMORE RAVENS #FeedTheFlock
The Baltimore Ravens announced on Monday the launch of their #FeedTheFlock food drive efforts, in partnership with Von Paris, Safeway and the Maryland Food Bank (MFB). For the past 26 years, the Ravens have supported the food bank as Maryland's largest charitable food provider.
Below are a variety of ways fans can donate to the collection:
Donate online and in-store
Fans are encouraged to help #FeedTheFlock to November, 1st – November 30 by donating to the team's online fundraiser, hosted by Ravens and the Food Bank. Those who donate will have a chance to win a pair of tickets to the Ravens vs. Rams on January 2, 2022. To donate, please visit the Ravens Food and Fundraising Team page.
Of November 1 – November 30, Safeway, the official Ravens supermarket and proud title sponsor of Purple, Tailgaters and RavensWalk will be collecting preset or rounded monetary donations from stores in the Baltimore area. The profits will be donated to MFB.
Guinness Open Gate Brewery "Giving Pack" Event
• On Friday, November 5, Ravens staff will volunteer at the Maryland Food Bank's 'Pack to Give Back' event at the Guinness Open Gate Brewery to help create holiday meal boxes for thousands of Marylanders. food insecure across the state.
Fundraising efforts will be boosted with the 26th Annual Ravens Family Food and Fundraiser, sponsored by Safeway, when the Ravens host the Cleveland Browns on Sunday November 28 at M&T Bank stadium. Before kick-off (6:20 p.m. – 8:20 p.m.), MFB volunteers will collect cash and non-perishable food donations outside all gate entrances to M&T Bank Stadium. MFB will also be on RavensWalk to collect credit and debit card donations. The final collected weight will be calculated and distributed by MFB. The 26th edition of the Ravens Family Food & Funds Drive is also supported by Von Paris, who will transport all collected items from the stadium to the MFB.
Donate Phone-a-thon Tuesday to Maryland Food Bank
Maryland Food Bank will team up with WBAL-TV 11, WBAL NewsRadio and 98 Rock to host its Give Tuesday Phone-a-thon at the Baltimore Food Bank on Tuesday, November 30. Throughout the day, Ravens fans will be encouraged to call the food bank and donate to help provide nutritious food to Marylanders in need during the holiday season and throughout the year.
Maryland Food Bank (MFB) Highlights:
For more than 40 years, MFB has led the fight against hunger in the state. The organization supports a food aid network of more than 350 state-wide community organizations that collectively provide nearly 1,450 distribution points of much-needed food to their local communities.
In response to the COVID-19 pandemic, MFB distributed enough food to provide nearly 62 million meals in fiscal year 21. MFB will continue to meet the immediate needs of vulnerable communities while working with partners to provide beyond food and address the root causes of hunger so more Marylanders can become financially stable and prosper.
The MFB mainly needs healthy non-perishable foods including canned protein like tuna, chicken and peanut butter, canned fruits and vegetables, shelf stable milk, breakfast foods , rice and pasta.
Safeway is committed to helping people across the country live better lives by making a meaningful difference, neighborhood by neighborhood. In 2018 alone, together with the Albertsons Companies Foundation, the company gave nearly $ 300 million in food and financial support. These efforts have helped millions of people in the fight against hunger, education, cancer research and treatment, programs for people with disabilities, and veterans outreach.
Visit www.Baltimoreravens.com/fooddrive throughout November to learn more about how everyone can contribute to the 2021 Ravens Family Food and Fundraiser.